Teen Section
The Dodgeville Public Library has a 'Teen Section' that offers a current selection of teen fiction, nonfiction, graphic novels and magazines. Our area has comfortable seating for reading, plus large study tables ideal for spreading out for homework and projects. Enjoy our free and fast WiFi for access to Overdrive, Libby, Ebooks and Audio books – or learn a new language with our online language program "Transparency"!
Digital Collection for Teens
What is it?
The eReading Room is a dedicated collection on the library's OverDrive-powered website that displays content only for kids or teens. Displayed content can include juvenile titles, young adult titles or both. Checkouts and holds are processed the same way as the full version of the library website, so when kids and teens are ready to use the full version, they'll already know how to navigate the pages.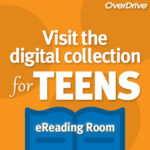 Getting ready for your ACT, SAT, or AP exams? Use Badgerlink's College Preparation Center for free!
College Resources are located in Adult Non-Fiction at 378.3 with Career Resources at 331.7.
Handbook references available can be viewed in the 'College and Career Handbook Resources' area of our website.
Teen BookCloud is an online collection of read-along titles for middle school and high school students which features adjustable online text and complete audio narration. Sentences are highlighted as they are being read and the pages turn automatically.