Genealogy and Local History
The Library Annex, located at 301 N. Iowa Street, and the main Library, contain many publications of interest to patrons researching local families and historical events. The Annex location also houses publications owned by the Iowa County Genealogical Society.
Just beginning? Not sure where to look next? Want to compare family history software, or just need to talk to other researchers for support or ideas? Stop in at the Library Annex and speak with Jan Janes or Vickie Stangel from 9:00 am to 2:00 pm, Monday through Friday, for expert advice and help.
Find a list of available Local History & Genealogical collections retained by member libraries of the Southwest Wisconsin Library System here.
Resources for Sharing and Lifelong Learning is our clearinghouse for statewide interlibrary loan.
The RS&LL website is full of great resources. Visit their page! Also, take a look at these FREE
Open Access Resources.
Geneaology Resources
Ancestry
Ancestry is available for FREE on computers in the Dodgeville Public Library.
The Ancestry Library Edition collection has approximately 4,000 databases including key collections such as U.S. Federal Census images and indexes from 1790 to 1930; the Map Center containing more than 1,000 historical maps; American Genealogical Biographical Index (over 200 volumes); Daughters of the American Revolution Lineage (over 150 volumes); The Great Migration Begins: Immigrants to New England, 1620-1630; Social Security Death Index (updated monthly); WWI Draft Registration Cards; Federal Slave Narratives; and a strong Civil War collection. Ancestry Library Edition updates continually, with more indexes and original images added all the time. (Available on library computers only.)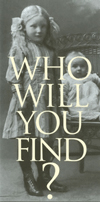 HeritageQuest Online™ is available from your home computer!
HeritageQuest Online™ provides libraries with a unique and growing collection of research materials for genealogists and historians. It includes the digitized UMI Genealogy & Local History Collection, 1790-1930 U.S. Federal Census, the Periodical Source Index (PERSI), the Revolutionary War Pension and Bounty Land Warrant Application Files, the Freedman's Bank records and Private Relief Actions, Memorials and Petitions from the Lexis Nexis® U.S. Serial Set.
Click here and you will be directed to a login page. Enter your 14-digit library card number and begin your search.
The largest collection of free family history, family tree and genealogy records in the world. From the Church of Latter Day Saints Family history Library.
Wooden Flag Display
Library's Wooden American Flag Display
(William Wallace Power, 1864-1945)

Wallace Power whittled this flag entirely from wood. While working days as a wood chopper during the 1930s, he carved the flag in spare moments over a period of ten years, often whittling by lamplight.
Power carved the field of stars from a single block of wood and carefully whittled each star until only the points hold it in place. He whittled three chains to create each of the thirteen stripes. Each chain originally consisted of a single length of wood. Power reportedly did not break a single link while carving, and there are altogether 2,100 links in the flag's stripes.
Power first exhibited the flag in Milwaukee at a hobby show in 1939, where it received considerable attention from the press.
The flag has survived two house fires. Dodgeville whittler Don Berryman replaced several of the chains after the first fire. As a boy, he had watched Wallace Power work on the flag.
After the more recent fire, Power's grandson Clifford Power of Madison, rebuilt the flag, replacing missing links and carefully scraping ones that were only slightly charred. His cousin, Hadie Stebleton of Hewitt, helped him paint the flag. "If grandpa took ten years to carve it, I guess I can take a few hundred hours to repair it so people can see what he made," Bowers claimed.
This text is reproduced verbatim from a wall plaque at the Dodgeville Public Library. The American Flag whittled by Wallace Power of Dodgeville, Wisconsin, is on loan to the Library. Many thanks to the Wallace Power family for sharing this snapshot of their family heritage.