Adult Book Club
Our book club meets once a month. We read fiction and nonfiction with insightful, fun and energetic discussions about each read! We are meeting inside the library currently, but will return to the lawn when the weather finally turns warm.
Our May meeting will be held at our main library on Wednesday, May 11th at 6:30 pm. Please note new time!

The book we are reading for May 2022 is Dear Mrs. Bird by A. J. Pearce. This charming, irresistible debut novel set in London during World War II about a young woman who longs to be a war correspondent and inadvertently becomes a secret advice columnist is "a jaunty, heartbreaking winner" (People)—for fans of The Guernsey Literary and Potato Peel Pie Society and Lilac Girls. https://www.bookbrowse.com/dear-mrs-bird
If you are interested in joining our book club, please email Carol Murphy at cmurphy@swls.org or call 608.935.3728. Thank you!

International Mystery Book Club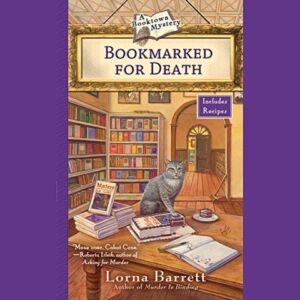 Members choose which books they want to read from our list of suggested titles, focusing on a different country or region each month.
Our international mystery book club has been discontinued for now. We are looking forward to starting again when the club is able to meet safely inside. Normally, we meet on the 3rd Monday of each month at 2:00 p.m, we expect this timeline to remain the same upon our return. If you are interested in attending this book club again in the near future, please contact Carol Murphy at cmurphy@swls.org or call the library at 608.935.3728. Thank you!

Reminiscing Kits for Seniors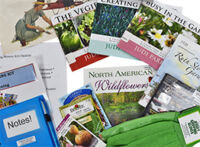 Reminiscing Kits for Senior have been developed for individuals with memory issues and their caregivers. We hope these kits stir memories and spark conversation. The kits include activities that can be done individually or with someone. The kits feature different themes relating to various topics. For example, farming, cooking and baking, birds, games, quilting, fishing, etc.
These kits are available at the Dodgeville Public Library and may be checked out for up to 4 weeks. Each kit provides a multi-sensory activity; visual, auditory, and tactile.
There is no charge for damaged or lost pieces. We are aware cognitively challenged people may get a little too zealous with activities and even may hide items. We do not want anyone to be afraid to check out or use the kits for fear something may be damaged or lost.
The Aging & Disability Resource Center, Iowa County Health Department and Dodgeville Public Library worked on developing the kits. CrestRidge Senior Living provided additional funding for the kits.
VideoEye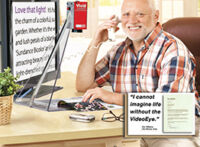 The Dodgeville Lions Club donated a VideoEye to the Library for vision impaired patrons. Located in the Local History room, the VideoEye is available for reading print materials, writing or doing handwork.
The VideoEye has several features that allow patrons to control the visual image.
• Reverse Image converts black on white text into white on black text to give increased contrast. This is especially helpful when reading.
• Color/BW turns color off. Helpful when reading colorful print.
• Focus Lock fixes the focus on the desired surface to help with writing.
• Full Range Autofocus focuses at any camera height by moving the camera arm up and down.
• PowerZoom fingertip control increases/decreases magnification continuously by pressing and holding
the button.
How does it work?
The arm unit is clamped to the reading table. Nearby, the television screen is connected to the arm. When both are turned on, the VideoEye magnifies and projects the image from the table top through the television screen. The VideoEye can also be moved over the patron's lap for handwork such as knitting.
Click here to see an example of how the VideoEye works.