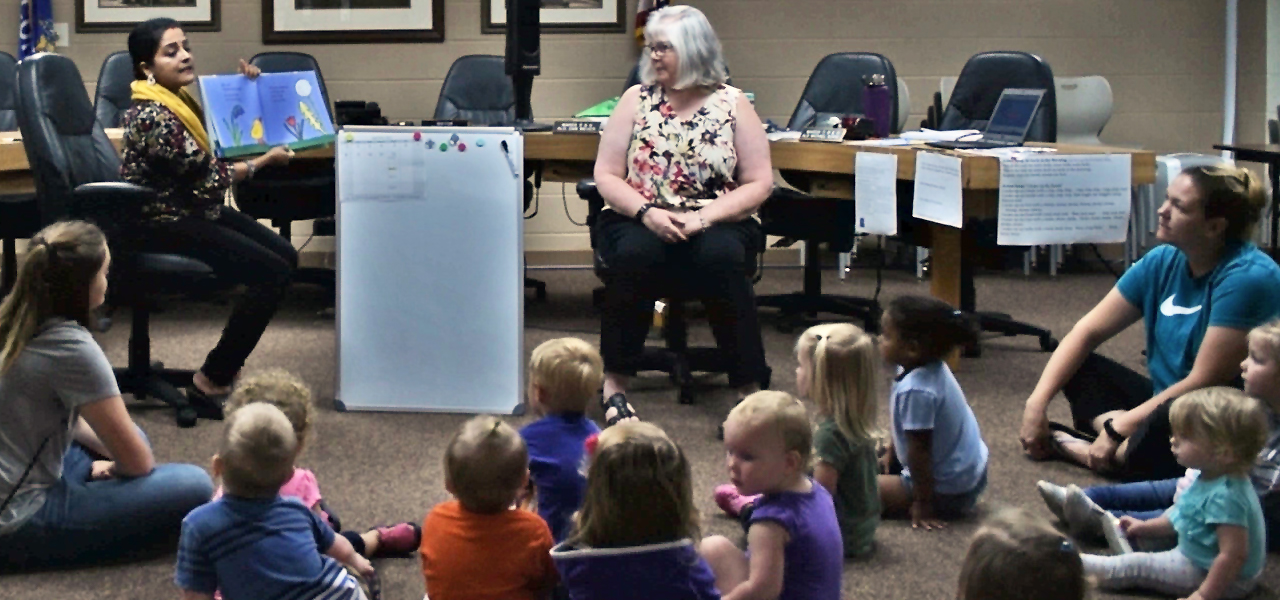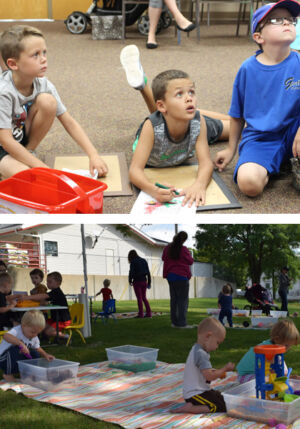 Children's Programs
The staff of the Dodgeville Public Library offers children's programs for children of different ages.
Introducing Colossal Fossils!
Family Friendly Virtual Colossal Fossils Educational Series: Local children and parents can join in the fun learning experience as the Dodgeville Public Library and Colossal Fossils offer 16 weeks of natural history presentations that will teach, captivate and inspire them. These online sessions will be live from 4-5 pm each Monday starting Sept. 7th and a recorded link is available on Tuesday and Wednesday each week. All sessions will be conducted via the Zoom app. These programs are generously sponsored by Southwest Wisconsin Library System.   For more information and to register call the library at 608-935-3728 or email cgleichauf@swls.org. Please click here for all the details and more information! Colossal Fossils.docx
Big news – Outdoor Storytime! 
The Dodgeville Public Library will be doing an outdoor Storytime at different locations around the Dodgeville community on Wednesday mornings through October from 10:30 – 12 noon! Please remember we are committed to keeping our staff and patrons safe.  Masks and social distancing are required.  Since it will be outdoors and we can't predict the weather, you can contact Carol Gleichauf cgleichauf@swls.org to sign up for email alerts if a program is cancelled due to inclement weather.  Bring your lawn chairs, blankets and masks.  We have missed seeing all of you, so we hope you'll join us for Storytime! Visit our Events Calendar for more information or click here: Outdoor Storytime Poster
Drop-in Storytime
This program is designed to introduce your child to the magic and wonder of books. Storytimes are developed through a multimedia approach incorporating books, flannel board presentations, music, fingerplays, crafts, filmstrips, and puppets. Storytime should be an enjoyable experience that will lead to a love of books and continued use of the Library.
Additional programming is offered throughout the year to encourage children to enjoy the Library and become lifelong readers.
Schedule
January – Drop-in activities
February through July – Drop-in Storytime
August – Drop-in activities
September through December – Drop-in Storytime
We will offer our typical 'Drop-In Storytime' on Thursday mornings from 10:15-10:45 a.m. at the Library.
Bilingual Storytime
A 'Bilingual Storytime' is offered the second Thursday of each month from 10:15-10:45 a.m. at the Library. This takes place during normal 'Drop-in' Storytime and includes some stories being read in english with a few new words in another language. Come join the fun… interaction amongst children of a variety of young ages, with some fun 'sing along songs' and activities at the end of the 'Storytime'.
An introduction to Storytime for children birth and up. This interactive program includes stories, songs, and crafts. The program is meant to be experienced with an adult caregiver and is provided in partnership with a library staff and a library volunteer.
Reading Programs
1,000 Books Before Kindergarten Program
Welcome! You are joining a program that helps your preschooler journey through many pages as you assist your child in becoming a lifelong reader. This program is to help parents prepare their children for one of life's biggest milestones: kindergarten. Sign up at the library today or to register visit: https://dodgevillelibrary.beanstack.org
Read the brochure    Registration Form  Reading Log 1-100     Log 101-200    Log 201-300   Log 301-400   Log 401-500   Log 501-600   Log 701-800  Log 801-900   Log 901-1000
Growing Wisconsin Readers
Growing Wisconsin Readers is a statewide initiative rooted in public libraries that aims to support Wisconsin caregivers of young children with information about early literacy so they can prepare children for learning at school and beyond. Learning to read begins at birth and looking at books with children every day is one of the most important things adults can do for their future. The Dodgeville Public Library has some brochures called Growing Wisconsin Readers that shows parents and families how to help babies, toddlers, and young children gain early literacy skills that will assist them in becoming readers and also offers pre-school programs that support Growing Wisconsin Readers.
Literacy Programs
February: Reading is fun with Dr. Seuss
March: Dr. Seuss Celebrity Read
April: Mother Goose & Rhyming book
Summer Library Programs
Summer Reading Program
New!! We are encouraging our patrons to register on Beanstack, our new on-line Children's Summer Reading program! Our program will be offered from June 15 through August 15 for children up to age 11.  Register to read great books and win prizes along the way.  To register visit: http://dodgevillelibrary.beanstack.org.  Find more registration information about our new reading challenge on the link: A Quick Guide to Beanstack below.  When registering on Beanstack we encourage you to select: I am an adult registering a child.  This will allow you to have all of your children under one Account Creator.  Writing down your username and password will be most helpful.
For patrons who do not have access to our on-line reading program, we are offering paper print out logs here:
Little Pre-Readers Summer 2020 (Ages birth to four)
Early Readers Summer 2020 (Going into Kindergarten and first grade)
Early Chapter Readers Summer 2020 (Going into second grade)
Older Readers Summer 2020 (Going into third – fifth grade)
 On-hold till further notice: Tinker Tuesdays for 7-11 year olds are registered summer workshops with limited attendance. Workshops are held in the lower portion of the library building. Please register at the library.
On-hold till further notice: Family Lego programs: Program time: Saturdays 10:00-11:00 a.m. May 11, July 13 and August 10. Programs are located in the lower level of library and are for a child with a parent. These programs are funded in part by 2015-2017 United Fund of Iowa County Grants.
Battle of the Books
Mark your calendars for February 6th, 2020 starting at 8:30 a.m.
What is Battle of the Books? Battle of the books is a program designed to promote a love of reading in students. It encourages students to read a variety of books and remember information about the plots, characters, settings, and authors of the books. Students read twenty titles in preparation for local competition between Dodgeville Middle School and St. Joseph's School. The competition takes place in late November at the Dodgeville Public Library. Participating in the Battle of the Books is a great way for students to experience interesting, exciting, high quality young adult literature while having fun and being recognized for their accomplishments in reading.
Who can join Battle of the Books? Any sixth, seventh, or eighth grade student can join the Battle of the Books program at school. Once students have signed up, the group meets to prepare for the competition. At Dodgeville Middle School, meetings take place once a week in the Library Media Center.
What happens at a Battle of the Books meeting? During Dodgeville Middle School meetings, Ms. Boland (the DMS Librarian) leads review activities and discussions on the books read for that week. A reading schedule is given out at one of our first meetings so students know which books will be discussed each week.
Visit America's Battle of the Books web site.
The Battle of the Books 2019-2020 Reading List (.pdf format) is now available. Titles written in italics are new this year.
You Should Know…Your attendance at programs sponsored by the Dodgeville Public Library may be digitally recorded through photographs or video recordings. These images may be posted on our web site, in our newsletter, by local newspapers or ultimately on the internet. If you do not wish your image to be published, please notify a member of the Library staff before the program.
When inclement weather occurs listen to WDMP (99.3 FM) radio station. If the Dodgeville School District closes or delays two hours or more, children's programs will be cancelled.
If you have any questions, please contact the Children's Librarian:
Carol Gleichauf at cgleichauf@swls.org, or call 608-935-3728, ext. 3.